18 March 2021
STARGATE launch: Australia's deadliest regions for prostate cancer revealed


Prostate Cancer Foundation of Australia (PCFA) has launched a new data portal showing the areas of Australia with the highest diagnosis and mortality rates from prostate cancer, and highlighting disparities that must be addressed to save lives.
The country's three highest death rates from prostate cancer are in the Queensland Outback, Ballarat, and Darwin, with the three highest rates of diagnosis in the Sutherland area of Sydney, on the Mornington Peninsula in Victoria, and at Mandurah in Western Australia. 
Prostate cancer is the most common male cancer in Australia, killing 9 men each day.
Known as the STARGATE project, the portal gives Australians access to the prostate cancer statistics for every suburb nationwide, for the first time.
PCFA's CEO, Professor Jeff Dunn AO, said; "The STARGATE data gives us a deeper analysis of the tragic fact that men in regional and rural areas of Australia face a 24 per cent higher than average risk of death. Over recent years we have come a long way to defeating prostate cancer, but we still have a long way to go."
Over the next 10 years more than 30,000 men will die if no action is taken, a death toll that PCFA says can be avoided if rates of early detection and access to treatment are improved.
"Community awareness is key to beating prostate cancer. Many Australians don't know the risk factors for prostate cancer, such as age and family history. If you have just one direct male relative who has had the disease, your risk doubles," said Prof Dunn.
For the first time, the comprehensive data also reveals stage of disease at diagnosis for all suburbs, painting a complex and concerning picture of prostate cancer in Australia.
Prof Dunn urged Australians to view the data at www.stargate.org.au and see for themselves.
"In some regions high rates of early diagnosis are not improving survival outcomes, which means access to treatment and other factors are playing a part in avoidable prostate cancer deaths. An example is the Murray region in New South Wales, which has the highest rate of Stage 1 diagnosis in the country, but a death rate that is still 20 per cent higher than the national average," Prof Dunn said.
"Today we are taking a major step towards improving prostate cancer survival nationwide, to prevent the avoidable death of over 3,000 men each year and support the one man who will be diagnosed in the next 30 minutes."
Sydney based Aviation consultant Tony Webber was 51 when he first experienced symptoms of prostate cancer in 2018.
"I was having trouble peeing and a few other things that told me something wasn't right. I thought it was because I'd put on some weight, I didn't even know what the prostate was when I first went to the doctor. I didn't think of cancer, I'd always been super healthy, running, swimming and bike riding. I think blokes always put things off and think it will fix itself, but if something's not right you need to get to the doctor straight away," Tony said.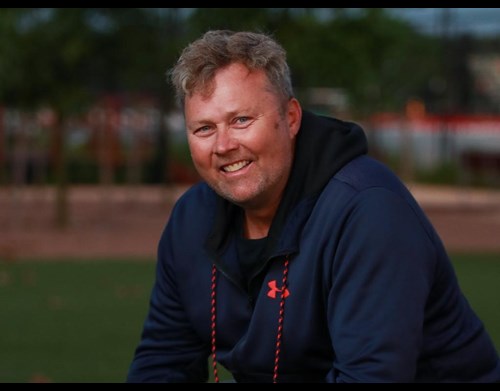 Tony Webber was 51 when he first experienced symptoms of prostate cancer
Mr Webber was diagnosed with prostate cancer in 2019 and was treated with chemotherapy. He has just finished radiation treatment and is doing well.
"I've always felt you don't know what normal feel like when you're sick with cancer. I've just returned to the office and realised I'd only been at work here when I was feeling sick. It feels so different now, it's like a new beginning."
At a state level, the Northern Territory has the highest death rate, despite having the lowest rate of diagnosis. The lowest average death rate is in Western Australia, yet the state has the second highest diagnosis rate.
The area with the highest five-year survival rate of 90.6 was the Baulkham Hills and Hawkesbury area of Sydney, while the lowest rate was 75.7 at Ballarat in Victoria – a significant gap which Professor Dunn said is unacceptable:
"This data calls us to act – raising awareness, improving access to care, and ensuring all men are given the best possible prospects of detecting prostate cancer early and beating it."
Lifestyle factors, age and family history all affect risk status and Australians are urged to find out about their risk status, and talk to their doctor about prostate cancer.
The current guidelines recommend men with no family history and no symptoms consider Prostate Specific Antigen (PSA) testing every two years between the ages of 50 and 70. Those with a family history should consider PSA testing from age 40 or 45, depending on the strength of their familial risk.
People are encouraged to visit www.stargate.org.au for their area data.
ENDS
Media contact:
Anne Savage, Chief Operating Officer, Anne.Savage@pcfa.org.au or 0417 709 869.