Giving on payday supports men like Brendan and their families in the fight against prostate cancer.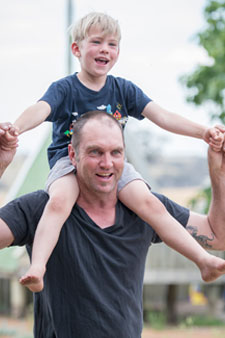 "I wanted to see my son play footy as a young man and watch my daughter get married. The cancer made all of that seem impossible."
BRENDAN, PROSTATE CANCER SURVIVOR
Giving through your workplace is:
Easy - get your donation tax-benefit straight away without the need to keep receipts
Effective - multiply your impact by encouraging your colleagues to join in and asking your employer to match your donations
Impactful – workplace giving provides an ongoing, stable source of income that allows PCFA to ensure that we are always there to support men and their families living with prostate cancer
PCFA has developed a toolkit to help employers and employees to donate through their workplace. Contact us on 1800 220 099 or workplacegiving@pcfa.org.au to hear more or order your toolkit today.